Purpose – Employee safety is a priority for the Suquamish Tribe. Work closures, delays and early dismissals due to weather, road conditions and power outages are always a possibility during periods of inclement weather. These guidelines outline when closures and or delays will be implemented and outline how the Tribe will notify employees and the community when this occurs.
Click here to download this guide as a PDF.
Inclement Weather Planning – Emergency Management staff will monitor National Weather Service advisories for possible changes in conditions and weather-related events. When inclement weather is forecast, the following factors will be considered to determine if the predicted impacts to Tribal Government Operations will warrant the need for closures, delays, or early dismissals:
Type of weather event;
Strength of wind;
Temperatures;
Amount of rain or snowfall, and
Potential for power outages.
Emergency Management with Executive Director (s) will review the North Kitsap School District delay/closure determination with the on-duty Public Safety Officer(s) recommendation of Port Madison Indian Reservation roadway conditions to determine safe government opening or delay/closures during Inclement Weather Incidents.
Operational Decision & Notification – Upon determining the need to modify schedules or close Tribal offices and services, all efforts will be made to notify employees. Examples of communication mediums include: A Weather Information Line that will include an outgoing message modified to reflect the closure or delay, the Suquamish Tribe website, and other electronic platforms endorsed by the Tribe for conveying such information. Department Directors will be expected to notify their team members.
In the event of weather-related closures, delays, or early dismissals, notifications will be initiated by 5:45 am when possible using the following mediums:
Website – When posted, government office closures and delay information may be found via an alert on the Tribe's website at suquamish.nsn.us.
Email –An "All Staff" message may also be sent via the Tribe's email system. If your email is not listed with the Suquamish Tribe, notify the Human Resources Department to have it added.
Text Alerts – Sign up for test alerts at the link https://suquamish.nsn.us/suqumaihs-updates-now/. NOTE: All government employees should sign up for the SUN as it is the most reliable way to reach you in the event of any emergency.
Weather Information Line –When activated, call (360) 394-8670 for the latest information on Tribal Government closures and delays.
Media –Inclement weather notifications will be posted on the Suquamish Tribe's Facebook page. For government office and school closures, Radio stations such as KITZ 1400 AM, KIRO 710 AM, KRPM 1090, KOMO 1000 AM, KPLU 88.5, KUOW 94.5, KJR 95.7, and KLSY 92.5 and local television stations KOMO TV 4, KING TV 5, KIRO TV 7, and KCPQ TV 13 will be announcing schedule changes after 6 am. Schools will be operating on normal schedules when no announcement has been made.
Employees should not call individual office or school phones since staff will not likely be available to answer. The above communication modes will be the most reliable means to obtain the status of government offices, schools, and Tribal services.
Types of Closures or Delays
When Trial government offices are open and operating as they normally would, no announcement will be made and employees are expected to report to work at their normally scheduled time.
Office Closure – If Tribal Government Offices close due to inclement weather, employees capable of working remotely are required to do so. Upon reopening, all employees are expected to return to work. If an employee needs time off to tend to repairs or damage beyond the norm, normal leave of absence policies will apply. In these cases, employees should stay in close communication with their supervisor to ensure the time off is properly accounted for. Some departments or services are considered essential, and are not subject to office closure guidelines i.e., Public Safety and Tribal Gaming. Check with your Department Director, or Supervisor to determine if your position is required to report to work during inclement weather conditions.
School Closure– If Chief Kitsap Academy or the Marion Forsman-Boushie Early Learning Center is closed due to inclement weather, all school transportation, meetings, field trips, after-school activities, practices will be canceled for the day unless otherwise specifically announced. All evening meetings/functions scheduled to take place in facilities will also be canceled.
Two-Hour Delay– If there is a two-hour delayed start, employees are expected to report to their work shift accordingly.
If employed by Chief Kitsap Academy, or Early Learning Center, the following schedule changes may apply:
In the case of a two-hour delay, the ELC will open at 9:30am, and all ELC staff will work 9:30am to 5pm.
Transportation will run 2 hours late
No breakfast programs (ELC Children will be fed upon arrival, regardless of start time)
No out-of-reservation boundaries transportation
No before school activities
In extreme conditions, the Chief Kitsap Academy or Marion Forsman-Boushie Early Learning Center may be closed after the Tribal government has announced a two-hour delay due to further deterioration of the weather or students may be released early. Parents should have a back-up plan if this happens. Release and transportation impacts including modified snow routes, or alternate bus stop impacts will be communicated to parents by CKA or ELC.
When snow routes are activated, official notification will be sent out with a link to Snow Routes. Snow Routes are posted by November 1st each year on the Snow Routes (insert link) page of the Transportation Department website. Transportation Services will send out a phone alert when only a few bus stops have been changed.
You may reach Transportation Services at (360) 394-8578 for ELC services beginning November 2021, The ELC is not providing bus transportation OR for CKA Services (360) 394-8566 for questions regarding alternate bus stops or delays in service.
Early Release– Should inclement weather occur during the workday; Tribal leadership will make the determination regarding what time the government will close. The Tribe may use discretion when determining closure leave eligibility.
Map of CKA Snow Route Stops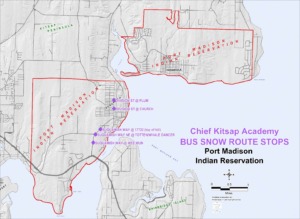 https://suquamish.nsn.us/wp-content/uploads/2021/12/qtq80-L8im9x.jpeg
1440
1800
Jon Anderson
https://suquamish.nsn.us/wp-content/uploads/2015/07/Suquamish-Logo-Transparent-6.png
Jon Anderson
2021-12-09 08:30:21
2021-12-09 08:52:45
Tribal Government Inclement Weather Guidelines