Contact Us:
Phone
360-394-7105
Email
Physical Address
6861 NE South St
Suquamish, WA 98392
Mailing Address
P.O. Box 1327
Suquamish, WA 98392
Follow us on social media!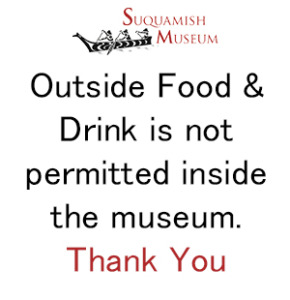 Hours
Due to being short staffed, the museum will remain closed Monday & Tuesday until further notice. 
Open 10am-5pm Wednesday through Sunday.
Closed Mondays and Tuesdays, but available by appointment for Museum Tours and Gift Shop.
---
Admission:
Adults (18+) – $5.00
Elders (55+) – $3.00
Children (5-17) – $3.00
Families – $15.00
Children under 5, Suquamish Tribal Members, Suquamish Tribal Government Employees & Friends of the Museum – Free
---
Museum Membership:
To become a member of the Suquamish Museum, please fill out our Membership Request Form.
Membership Package Details (all memberships are valid for one year from purchase date)
Individual = $15
Senior Couple = $25
Family = $40

Free General Admission
10% off Museum Store Merchandise (excluding special orders)
Reduced fee for Workshops and Special Events
Invitation to Member-Only Events
Subscription to Newsletters
2 Guest Passes for General Admission

Patron = $100

In addition to above
2 additional Guest Passes
Listing on donor recognition materials

Sponsor = $250

In addition to above
Museum & behind the scenes tour for up to 15 guests
---
Museum Tours:
Guided tours are an additional $20.00 fee that is not included with admission fees.
If you'd like to request a guided tour and check for availability, please fill out the Museum Tour Request Form
Please allow one business week for a response as we are short staffed
---
Research & Collections Request:
If you would like to receive historical information regarding Chief Seattle, ancestral history, Suquamish history, and more, please fill out the Museum Historical Research Request Form.
If you have an item that you would like the museum to review that you believe could be an artifact, a historical photo or other historical item, please fill out the Museum Collections Request Form.
---
Lawrence Webster Education Auditorium Room Rental
If you would like to reserve the education room at the Suquamish Museum, please fill out our Room Rental Form. The room can hold up to 40 people, but you can include the lobby into your request fitting up to 75 people. All rental fees and add-ons are described in the form.
---
Museum Store Vendor Submission
The Leota Anthony Museum Store is ever changing and growing. We are looking for local Native American artists with handmade items to sell in the store. If you're interested in selling your items, please fill out our Vendor Submission Form. Please note that all local artist items will be reviewed and decided upon by the Suquamish Museum Gift Shop Committee. The Committee meets once a month. It is not guaranteed that all submitted items will be accepted, but we encourage artists of all ages to submit.
---
Tribal Government Special Order Request
For Suquamish Tribal Government Departments looking to purchase Museum Store items for their department, please fill out the Museum Store Special Order Request Form. Please keep in mind that we recommend allowing 6 weeks for processing and shipping. Catalogs for items that can be purchased can be provided upon request.