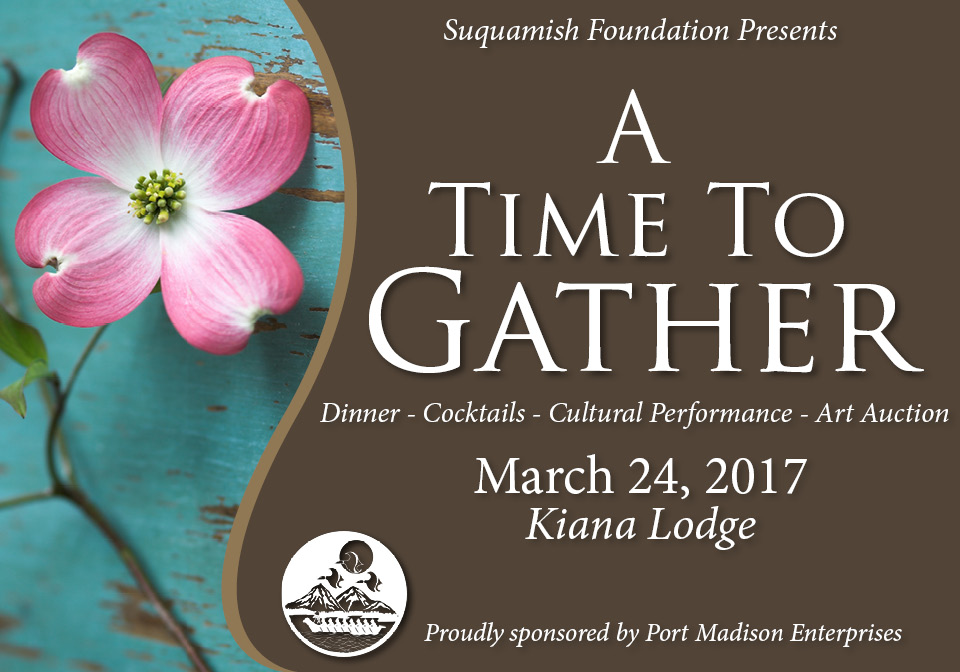 The New Year is here. What does it hold for us? Times may feel uncertain.  And yet, one thing is absolutely certain; for those who treasure the sacred, priceless beauty of the cultural, historic and environmental values of the Puget Sound, it will be a year of true celebration and accomplishment.  It is truly a year to honor that, to share that, and, yes, to thoroughly enjoy that at a party!  Let us joyfully celebrate together at the Suquamish Foundation's 2017 "A Time To Gather" community event on March 24th.  This will once again be held at Kiana Lodge, one of the most beautiful seaside venues in Washington State.
It has now been 12 years, since the Suquamish Tribe chartered its' non-profit organization, the Suquamish Foundation.  The Foundation invited a wealth of enthusiastic partners and supporters to raise $20 million dollars to launch an incredibly successful "Building for Cultural Resurgence Capital Campaign ". Together we realized a vision for a renovated downtown Suquamish with a beautiful new Museum, Community House,  Community Dock, new Early Learning Center and a brighter  future.
This work goes on!  It is exciting to see such positive change in a few short years, to recognize the generosity of so many contributors and come together to support and celebrate our on-going work and mutual benefits.  The Suquamish Foundation will now focus on a new Community Playground, a vigorous fight against drug and alcohol addiction, and enhancing the cultural collections at the Suquamish Museum.
At A Time To Gather, March 24th from 6 to 9 p.m., we will be providing dinner and cocktails, an amazing cultural performance and a brilliant art auction of original pieces as well as auctioning unique cultural experiences such as a voyage in one of the Tribal canoes.  Please join us for this vibrant event and revel in our successes and support our brighter future.  We will wrap you in a metaphorical blanket of honor, love and solidarity. To purchase tickets, click here! To see photos from last year's event, click here.
https://suquamish.nsn.us/wp-content/uploads/2017/02/TTG-Web-Image-FINAL.jpg
672
960
Jon Anderson
https://suquamish.nsn.us/wp-content/uploads/2015/07/Suquamish-Logo-Transparent-6.png
Jon Anderson
2017-02-23 01:50:50
2018-01-08 18:42:53
Suquamish Foundation Announces A Time to Gather