Empowering our teens to create healthy relationships
Teen Dating Violence Awareness Month is an opportunity to create awareness about Teen Dating Violence, uplift youth voices, and healthy relationship skill building, and connect young people with resources to help cultivate safety in their relationships.  Many Native peoples have the teaching that we are all related, our clans and kinship systems show us how we are connected to each other. Taking care of ourselves and each other is how we practice being good relatives. It starts with cultivating healthy relationships when we are young.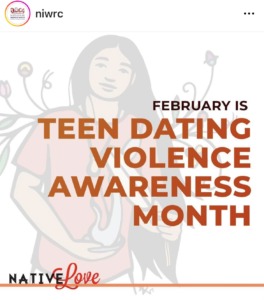 Teen dating violence is an issue in Indian Country that we should understand and actively work to end. It often occurs between the ages of 13-19 but can start as young as 11 years old. 1 in 12 US high school students experience physical dating violence and 1 in 12 experience sexual dating violence.  These numbers are very high though this issue is often hidden from others. Many young Native people are suffering in silence. Nobody deserves to be abused. We should be talking about the reality of Teen Dating Violence even if many do not see it. Relationships should be based on respect and care and not power and control.
Native teens deserve to be taught healthy coping and relationship skills like consent and boundaries and prevent Teen Dating Violence. We need support services for survivors of teen dating violence so young people can get the help they need.  TDVAM is an opportunity to empower youth to help their peers know where to go or who to talk to if one of their friends confides in them about experiencing dating abuse.
NativeLove and the National Indigenous Women's Resource Center (NIWRC) work to raise awareness and create educational tools about Teen Dating Violence to support advocates working in Indian Country. Our goal is to empower teens to demand safety in their relationships and uplift their voices. Help support Native youth by raising awareness about Teen Dating Violence and promoting healthy relationships.
Follow, Like, and Share @NativeLoveIs on Instagram, TikTok, and Facebook.
Teen Dating Violence, Defined
Teen Dating Violence is a type of relationship violence that occurs between young people. It is defined as when a person uses a pattern of abusive behavior toward their partner to gain power and control over them. Teen Dating violence can include one or more types of abuse, and can look like this:
Physical abuse—pushes, shakes, slaps, kicks, or spits on you. Holds you down. Throws or breaks your personal belongings (ex. books, cell phone, etc.)
Emotional abuse—insults you, calls you hurtful names, or embarrasses you in public. Constantly accuses you of cheating. Threatens to hurt you or expose secrets about you.
Sexual abuse—unwanted kissing or touching, pressures you to have sex or makes you feel guilty for not wanting to have sex or demands that you send them sexually explicit photos or videos.
Digital abuse—constantly calls, texts, or DMs you to find out where you are or who you're with, tells you who you can be friends with on social media, or sends mean messages on social media either directly from them or anonymously, tracking you, or sending sexual messages without consent.
Cultural/Spiritual abuse—makes fun of your religious beliefs or cultural responsibilities to make you feel shame or embarrassment.
Financial abuse—steals money from you. Controls how you spend your money.
Some signs of dating violence can include when a partner:
Acts extremely jealous or possessive of you, follows you home or to school, or shows up wherever you are unannounced.
Is annoyed or upset when you spend time on the phone with other people.
Interferes or stops you from doing things alone or getting support from others.
Tells you who you can or cannot be friends with, starts rumors, or threatens to start rumors about you.
Excessively texts you or sends non-stop DMs.
Checks your phone for who texts or calls you.
Tags you in hurtful social media memes, posts, or pictures.
Criticizes your dreams, goals, family, or friends.
Tells you what to wear or how to dress.
Explodes in anger toward you or acts aggressively when they're upset.
Kisses, grabs, or touches your body without your permission.
Forces you to take sexually explicit selfies or videos.
Threatens to hurt themselves or commit suicide if you don't do what they want.
If you know a young relative that is being abused:
Call or text StrongHearts Native Helpline at 1-844-762-8483 or chat at strongheartshelpline.org.
Create a safe space and tell them you're concerned about their safety.
Be a good relative and listen to their story when they're ready to share.
Let them know the abuse is not their fault and they do not deserve it.
Ask how you can help them.
Offer support and encourage your friend's strength and courage.
Share resources available online or locally from your community.
Learn about dating violence and the signs of relationship abuse.
Avoid confronting the abusive person hurting your loved one. It can escalate the situation and put your young relative in danger.
If your friend or relative is being abusive, find ways to let them know their behavior is not acceptable. Ignoring their bad behavior condones and supports it.
Helpful Resources and Activities:
https://suquamish.nsn.us/wp-content/uploads/2023/02/IMG_1576.jpg
1328
1170
Jon Anderson
https://suquamish.nsn.us/wp-content/uploads/2015/07/Suquamish-Logo-Transparent-6.png
Jon Anderson
2023-02-10 13:41:51
2023-02-10 13:42:55
Empowering our teens to create healthy relationships