Healing House Clinic set to open this winter
Tribal members invited to open house slated for Jan 5
The Primary Care team at the Suquamish Tribe's Healing House health clinic is on track to begin seeing patients by the end of the winter, says Dr. Kristine Ewing, the clinic's medical director.
In December, the clinic's new staff began training on the new Electronic Medical Record (EMR) system that will be used by the entire Health Division (Healing House, Wellness Clinic, and Community Health), marking a major milestone towards fully opening the clinic. Having a single EMR across the Tribe's health entities will help to coordinate and streamline care.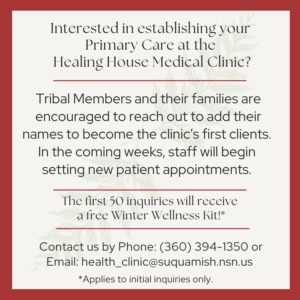 "We are busy orienting nursing and administrative staff, ordering supplies, and learning our new medical record system," said Ewing. "We need everything to be ready in a good way, so that we can do what we are here to do, which is caring for people."
Tribal Members and their families are invited to an open house at the clinic on Jan. 5. Tours will begin for Tribal Elders only at 1pm. Tours will continue for everyone else from 2pm to 4pm.
In the meantime, clinic staff are now assembling a list of Tribal Members and their families who are interested in making appointments to establish their medical care at the clinic.
"These first appointments are typically longer visits where your doctor will review your medical history, ask you a lot of detailed questions, and start to develop a plan that meets your medical needs," said Ewing. "For now, we're just trying to get a sense of who is interested. Once we're ready to schedule appointments, we will contact you."
This might beg the question – what will primary care look like at the Healing House?
"And it's a good question," says Ewing. "Primary care is a long-term relationship between a person and a primary care physician. In our Tribal community, this all about establishing a relationship built on trust and respect, the kind of care that comes with honoring culture and taking the time to understand each person's unique needs."
Dr. Alex Kraft, who is a Naturopathic Physician and acupuncturist who worked part-time at the Wellness Center over the past eight years, joins Ewing, a Family Physician, on the Healing House Primary Care team.
At the Healing House, these primary care doctors will see patients regularly for checkups, taking time to get to know a patient and their medical history, and provide knowledge and support regarding long-term and chronic health concerns, including nutrition, stress management and mental health.
"Ideally we would see people for all of their primary care and also acute, non-life-threatening needs, but as a primary care clinic we will often refer more urgent concerns to an urgent care clinic or emergency room," says Ewing.
Getting the final pieces in place
Before visits can begin, however, several remaining big, background pieces are being put into place.
Tribal Council recently approved the eClinicalWorks EMR as the Tribe's backbone for recordkeeping and secure client communication. Training to use that software, now underway, is about a two-month process.
Tribal Council also approved a contract with Native American-owned DT-Trak Consulting to provide coding, billing, auditing, and credentialing services for health clinic staff. Meanwhile, joining Ewing and Kraft, three new staff members have been hired into key positions at the clinic in recent weeks:
Receptionist – Elizabeth Napoleon
Medical Assistant – Michelle Hofmann
Office Manager – Kris Safford
Stephen Kutz serves as the Healing House Director, overseeing Primary Care, Community Health, and the Wellness Center.
As the Primary Care team continues their work to prepare to see patients, the Tribe's Community Health nursing staff continue providing vaccinations and boosters, COVID-19 testing, medication and chronic disease management, tobacco cessation, and nutrition counseling, among other services.
WIC services are also now run out of Healing House.
By Jon Anderson
https://suquamish.nsn.us/wp-content/uploads/2023/01/Healing-House-Primary-Care-Team-scaled.jpg
1675
2560
Jon Anderson
https://suquamish.nsn.us/wp-content/uploads/2015/07/Suquamish-Logo-Transparent-6.png
Jon Anderson
2023-01-03 12:52:22
2023-01-03 13:02:31
Healing House Clinic set to open this winter