Wrapped in Resilience 2017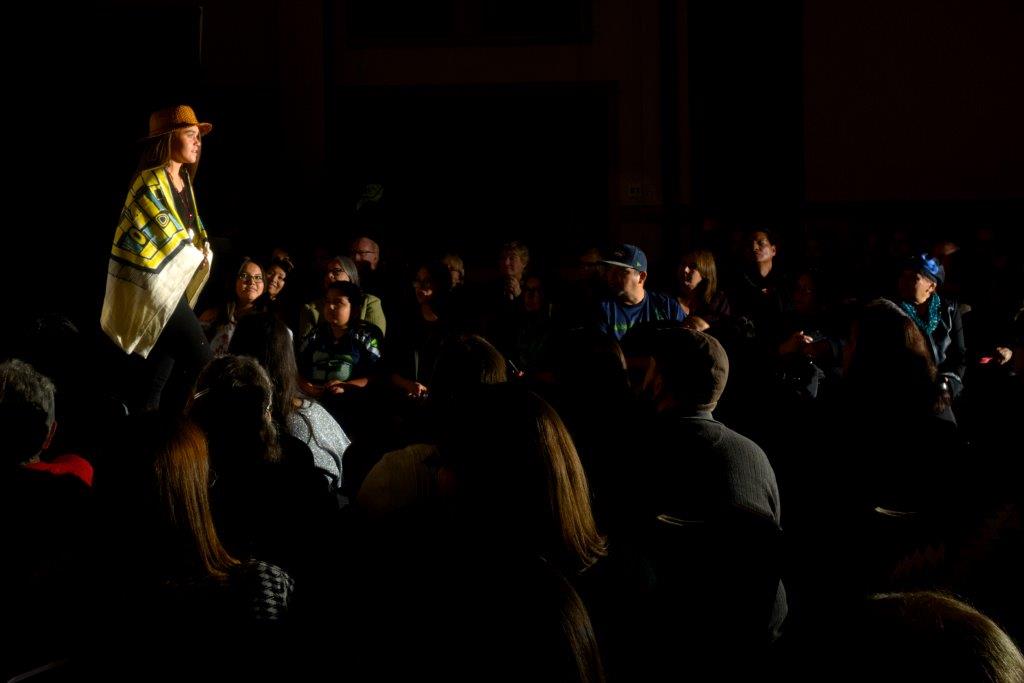 In 2005, the Cultural Resurgence Campaign focused on bringing the Suquamish Tribe's ancestral culture, values and spirituality to the forefront of community life—recognizing their relevance in the present, reawakening Tribal pride in its members, and sharing the Tribe's history and culture with the greater Suquamish community in Kitsap County.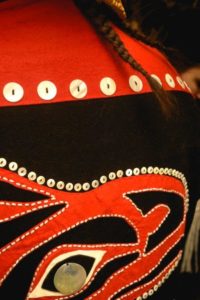 The inaugural Sovereign Style: Ribbons of Resilience event in October 2016 showcased the artistry of shirts, dresses, and children's clothes adorned with beautiful ribbons and modelled by Suquamish Tribal members.  Hosted by the Suquamish Foundation, it was the beginning of the Suquamish Sovereign Style campaign celebrating artistry, resilience and generosity.
Ribbon shirts and dresses represent many aspects of indigenous history since contact—assimilation, creativity, prayer, ingenuity, tradition, strength, protection, style, and rebellion.  Ribbons were used not only to adorn plain clothing, but to show status, family ties, and preservation of cultural values.  As all cultural activities were outlawed by the U.S. government, ribbon clothing signified a covert resistance to assimilation.
The second event was held again in October 2017 with the theme of "Wrapped in Resilience." This fashion happening called for shawls, blankets and vests to be exhibited by Suquamish high school student models. Shawls, blankets and vest have been a traditional showcase for Native artistry while serving the practical purpose of keeping a person warm. The exquisite pieces on display ranged from an original woven cedar vest to breathtaking colorful shawls depicting revered Salish characters.  The designs incorporated Native artistry representing traditional craftsmanship and dedication to preserving long-honed skills in a celebration of beautiful garments.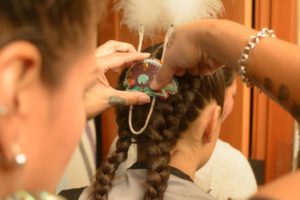 Telling our story through style.  That is the tradition that the Suquamish Foundation Sovereign Style campaign seeks to uphold for the Tribe and the broader, shared community.  It represents the style in which we gift grants, education, and love.  It also represents the need to seek support to further our goal to build resilience for our children and generations to come.
As we reclaim our homeland, we celebrate with pride the ceremonial style that has been an outward sign of our creativity, spirit, prayers, strength, protection and preservation of cultural values, relationships to homeland, and the natural world. By this practice, we enable these traditions and practices to continue on with future generations.
The Suquamish Foundation's mission is to build on our ancestral vision to enhance the culture, education, environment, and physical well-being of the Tribe and the greater community. It works best when we all are involved as a community of Givers. Sovereign Style allows all of us ways to give with our hands, our heads and our hearts.
The Sovereign Style event in 2018 has been set for October 19th. We hope you join us this year! For more images of the 2017 event, click here.
https://suquamish.nsn.us/wp-content/uploads/2018/01/Wrapped-in-Resilience-2017-71.jpg
683
1024
Jon Anderson
https://suquamish.nsn.us/wp-content/uploads/2015/07/Suquamish-Logo-Transparent-6.png
Jon Anderson
2017-11-08 18:38:11
2018-01-08 19:09:42
Wrapped in Resilience 2017